The Alpentherme Gastein covers an area of 36.000 m2 for total relaxation and enjoyment of the most precious treasure the Gastein valley has to offer: thermal water at 47C bubbles from the depths of the Tauern mountains – a fountain of youth for body and soul! You will find six different Thermal Worlds – families and active swimmers will find as much satisfaction as guests who are looking for relaxation and tranquility.
Thermal holidays for the whole family
The Family World has plenty of room for fun and action. Three slides provide a good adrenaline kick – and not just for the little ones.
The Relax World is for relaxation in the invigorating pool.
The large Sauna World incorporates 12 different sauna cabins and is an oasis of tranquility. Time for relaxation is a priority here.
In the Ladies World with a sauna and steam room the ladies are among themselves. The perfect place to wind down and enjoy the day. The same goes for the adjacent Beauty World for massages and treatments.
The Sports World is for working out, after which it is time for relaxation in the thermal water swimming lakes.
As you can see, there are unlimited possibilities and best of all as a guest in Winkler's Gipfelblick Chalet you have unlimited free admission, as often and for as long as you wish.
Send your enquiry and book your Thermal holiday in Bad Hofgastein.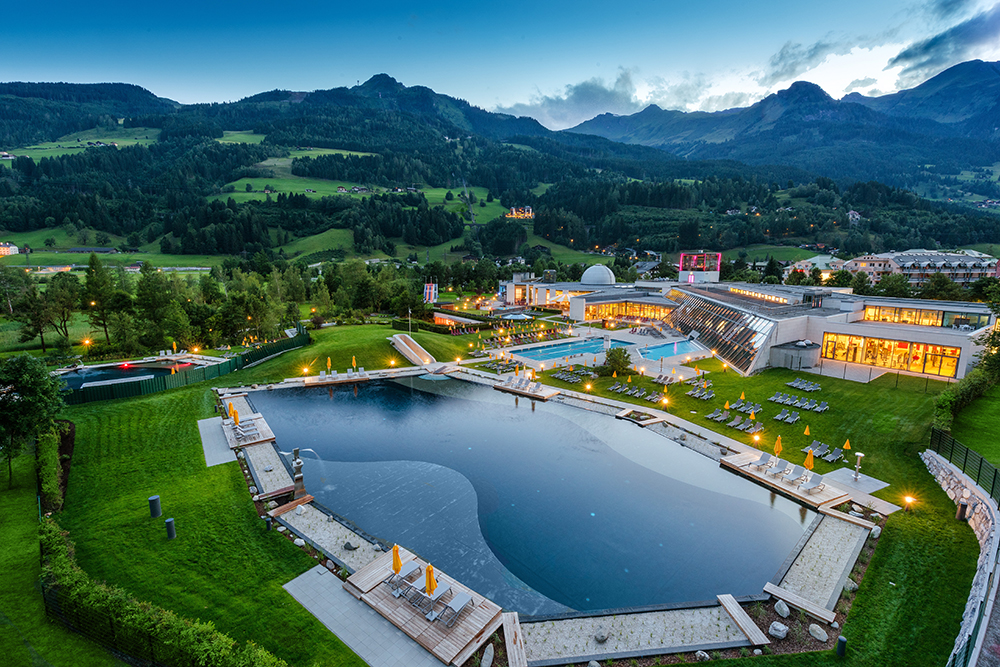 The thermal water swimming lakes
Since 2017 the Alpentherme Gastein is one attraction richer: two thermal water swimming lakes in natural surroundings. One of 370 m2 exclusive for the guests of the Sauna World, and a second of 1.300 m2. Both make it possible to swim in the warm water from May to October. The water is purified without chemical additives by a biological filter system. Visitors who struggle with skin problems or allergies can enjoy the water without worries.
Premium Partner of the Alpentherme
Unlimited thermal fun during your holiday in Gastein – as long and as often as you wish, including on your arrival and departure days. A refreshing swim in the sports pool after a hiking or bike tour or in winter into the warm water after a day's skiing. As a guest of Winkler's Gipfelblick Chalet admission is included and unlimited.